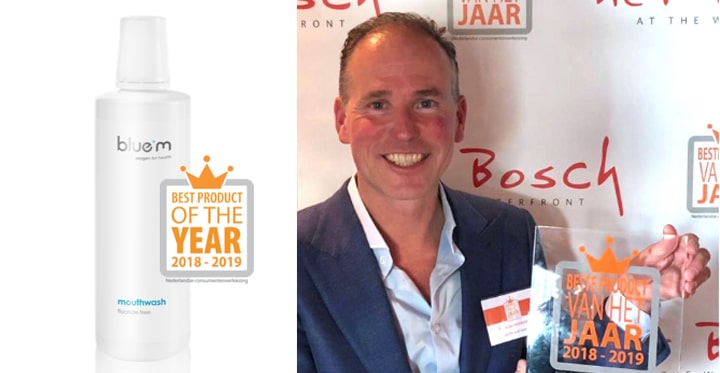 Amsterdam, December 13, 2018 – After winning the election last year with the fluoride free toothpaste, blue®m won the prize again this year! Yesterday it's announced that the winner of the 'Best Product of the Year 2018-2019' in the category 'oral care' was won by the Dutch company in innovative oral care, blue®m.
NOT JUST A MOUTHWASH
"Of course we know what our products can do for people. We often receive emails and phone calls from people with beautiful and sometimes touching stories. That we have now defeated a large company such as CB12 in this competition is really thanks to our customers. The fact that they are so involved and satisfied gives us confidence that we are on the right track and can continue our mission ", says the enthusiastic Chief Healthy Smiles Fokke Jan Middendorp. blue®m is a typically Dutch brand with a worldwide mission; make the difference in oral health. The mouthwash is therefore not just a mouthwash. The active ingredients oxygen, honey, lactoferrin and xylitol ensure optimal care of the gums.
COMMITTED CUSTOMERS STAND BEHIND THIS DUTCH COMPANY
A small company from the Netherlands has beaten big players such as CB12 and Oral B for two years in a row. The dedicated users stand behind the products and the brand blue®m. "We have a loyal fanbase in the Netherlands," adds Nathalie Beck, co-founder of blue®m. "Our customers have their personal reasons for using our products. We have a lot of close contact with them and are dedicated to help people in any possible way. We now see that it is appreciated and we are very grateful for that! "
VOICE OF THE END-USER DETERMINES
In total, 117 entries were submitted for the prices in different categories. Together almost 30,000 assessments were received in the months of October and November. Through the website www.besteproductvanhetjaar.nl input was given for price-quality ratio, product presentation, user satisfaction, repeat purchase and recommendation. This election is one of the largest in our country, where the voice of the end user is decisive.
Leave a reply →