Chromatic type 3 hard stone (light blue -> purple -> light blue) with extra fine granulometry specific for the preparation of total and partial removable master models, metal framework, study, preliminary and antagonist models.
The extra fine granulometry guarantees compact surfaces, high definition of the detail, resistance to compression and abrasion, thus preserving the model during the processing phases, and the construction of the extremely precise prosthesis.
Kromotypo3 is compatible with all impression material and all products for the isolation of plaster against plaster.
Final colour: Light blue.
• Water/powder ratio: 29 ml/100 g
• Imbibition time: 20"
• Manual mixing time: 60"
• Mechanical mixing time: 30"
• Pouring time: 3'
• Setting time: 7'
• Time for separation after setting*: 30'
• Setting expansion (after 2 hours): 0,09 %
• Compressive strength (after 24 hours): 66 MPa – 9.565 Psi – 670 Kg/cm2
• Rockwell hardness (after 24 hours): 70 HRl
Measurements at 23°C with deionized water.
* Depending on the impression material used, the times indicated may vary.
CHROMATIC PHASES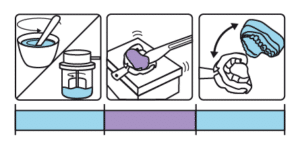 The light blue colour indicates the mixing time, the appearance of the purple colour indicates that the plaster can be poured, and the final light blue colour indicates that the complete hardening of the plaster has taken place and the model can be removed from the impression.